Advanced Vendor
Advanced Vendor
Joined

Jun 5, 2017
Messages

169
Reaction score

69
Points

28
EMV Chip Card Reader & Writer Software v8.6
EMV Reader Writer Software v8.6 Is Able To Read/Write/Duplicate/Delete
Any EMV Chip Cards, Such As 201,206,226 Or Any EMV Chip Card Other Protocol,
It Will Allow You To Read/Write/Duplicate/Erase Any EMV Chip Cards,
The Package Include The EMV Chip card Reader Writer Software v8.6 Setup,
ARQC Keys, And Unique License Key,

Act AET63 BioTrustKey
The AET63 BioTRUSTKey combines the highly successful silicon fingerprint
sensor with a smart card reader to achieve ultra-secure authentication.
It is fully integrated fingerprint-based biometric subsystem,
combining fingerprint sensing and algorithm processing in a single,
compact device. All biometric algorithm processing is carried out in a custom
chip integrated at the back of the silicon fingerprint sensor.



ACR38 EvM Reader Writer
Along with the rapid growth of technology comes
the increasing prevalence of electronic data theft.
This emphasizes the need to secure electronic data,
thus necessitating the integration of smart card
technology into current IT infrastructures.
the ACR38 Smart Card Reader Series combines sophisticated technology
(EMV Reader Writer Softwarev8.6) and modern design to meet
stringent requirements in smart card-based applications,
such as payment systems and electronic identification,
where a high level of security has increasingly been deemed essential.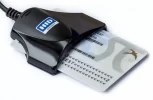 Omnikey All Model USB
OMNIKEY® 3021 USB a high-performance smart card reader in a
small form factor for desktop as well as mobile usage.
The OMNIKEY® is an easy-to-install USB device suited for all contact
smart card operations like online-banking or digital signature applications.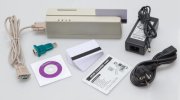 MCR 200 Magnetic Machine
Original New Model of MCR-200 IC Chip Card Reader Writer Magnetic
Stripe Card Reader Writer & EMV chip Encoder Track 1,2,3
Comes with EMV Reader/Writer Software v8.6 for Windows/Macbook/Windows
7/Windows 8/Windows 8.1/Windows 10/MacOS/Linux (Only Ubuntu and Debian)
Multifunctiton All in one IC chip / Magnetic swipe card reader writer encoder.
Note: With EMV Reader Writer Software v8.6 included
Payment With Only Bitcoin
Forum Escrow Welcome
Contact ICQ Only 842945
Telegram @Emvsolutions
​